CycloneGG Says Goodbye to SMITE, First Ever Team
It doesn't seem like long ago that we picked up the "Loopy Landers" roster in the PC SMITE scene as our first team as an organization. But truth be told, it was July 2016 when we entered the Battleground of the Gods. The team had just qualified for the SPL at the time, but over their time with us they proved to have staying power. These guys have put in a lot of hard work and we end this relationship on the best of terms and have nothing but respect for our old SMITE squad.
For a very long time, this roster has stayed together through thick and thin with the belief that one day the work would pay off. With their steady improvement since Season 3, it's safe to say that the boys have a great strategy for SPL success. The starting roster has always been KaLaS, Vote, Wlfy, iceicebabyy, and Deathwalker because we aren't like PainDeViande and get a whole new roster every split ;). Our SMITE Support Staff stayed pretty consistent as well, as Manager Covertactician has been with us since the beginning. We lost original coach Hayzer to Obey, but the transition to AlphaJackal was smooth because of the great work that he has done for us since November. Also, shoutouts to AllHailMuppets for his amazing Hun Batz in Season 4 Relegations, best of luck with Deserted. This team has a lot of experience to build off of moving forward, as is apparent by their accomplishments listed below.
"Cyclone has been nothing but a supportive organisation, and we appreciate all the time they have been with us in the SMITE Pro League giving us motivation or helping us along the way." - Covertactician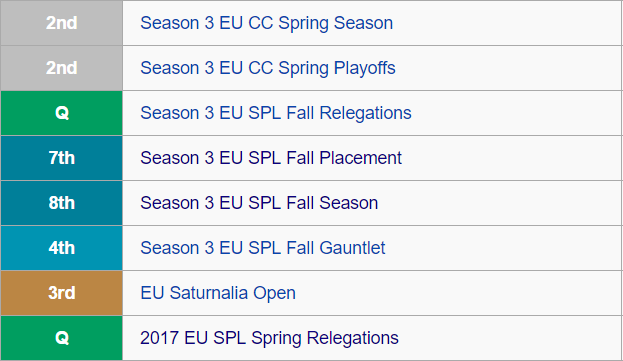 We conclude our farewell to our inaugural esports roster with a statement from the founder of CycloneGG, Slak:
"It's a very sad day when you've to let your first team go, we've grown with these guys all the way from Challenger Cup to the SPL splits. Everyone in the Cyclone squad is extremely talented and I think they're getting stronger & stronger every split. With that being said, all good things come to an end, and we have decided mutually to part ways. Both sides don't wish to speak publicly as to why this decision was made, but just know that there were no "arguments" or bad blood between us. We wish the team nothing but the best in the rest of their SMITE careers. Cyclone would like to thank everyone for the support we've gotten from the community since day one, SMITE is definitely a game we still see ourselves in. We will be back soon!"
FORMER CycloneGG SMITE Roster:
Support/Captain KaLaS: https://twitter.com/lfKaLaS
ADC Vote: https://twitter.com/VoteNBK
Mid Wlfy: https://twitter.com/Wlfy7
Jungle iceicebabyy: https://twitter.com/iceicebaby_0
Solo Deathwalker: https://twitter.com/Dthwlkr
Coach AlphaJackal: https://twitter.com/AlphaJackal
Manager Covertactician: https://twitter.com/Covertactician
Jacob Russell